Like that photo up there? I just thought that it'd be nice to have a picture of snow in the middle of summer. Hehehe…
Well, this month was insane.
Most of the insaneness came from all the writing I did. As most of you know, I did Camp NaNoWriMo this month. I was part of an awesome cabin. We got so many words done. I mean so so many.
First off, I did about two thousand words a day. I started a new dystopian novel (though I haven't even finished my fantasy novel). Just think anarchy, okay. Then you'll have a good idea of what it is about.
But when I started I didn't really have a plot for the novel, so I decided to do a backstory for my main character because I had figured most of that out. And well, I'm still writing his backstory. So I think that it is going to be its own novel.
Then something crazy happened. I can't believe my cabin mates convinced me to do this.
On July 18th I wrote TEN THOUSAND WORDS in ONE DAY!!!
It was insane. I about died. I'd only ever written maybe three thousand in one day. I don't even know how I did it. I started about five in the morning and then finished around eight in the evening.
Then grandparents visited for about a week and I probably got about a thousand words that whole time.
After that, in the last four days I managed to add ten thousand words. So I got a total of 60,169 words for my new novel and it is not yet close to being done (and it is only a backstory).
Since I focused so much of my time writing, I read a pitiful amount of books this month. There were even days that I didn't read anything at all. *gasps* I know. What happened?!
The Wildcat of Braeton (The Rise of Aredor: Book 2) by Claire M. Banschbach
The Winner's Crime (The Winner's Trilogy: Book 2) by Marie Rutkoski
The Winner's Kiss (The Winner's Trilogy: Book 3) by Marie Rutkoski
Eldorado by Edgar Allan Poe
The Haunted Palace by Edgar Allan Poe
To The River by Edgar Allan Poe
Six of Crows (Six of Crows: Book 1) by Leigh Bardugo
The Wildcat of Braeton: I loved it! I'm sad now that it's over. How can this be???
The Winner's Crime: This was intense. So many lies and secrets. One slip and everyone could die. THAT CLIFFHANGER!
The Winner's Kiss: I liked how this ended. It was surprising and unexpected. It was just what I could hope for from a trilogy full of strategy.
Six of Crows: This was so cool. A book about bad guys! Yeah, it was a cool twist on the normal type of story and I really enjoyed it.
I'm loving this! #sixofcrows #books #bookquote pic.twitter.com/8hV3S9ZUXm

— Gabriela Paige (@GabrielaPaige99) July 23, 2016
So you see, a pitiful amount.
Currently, I'm reading:
One Thousand Gifts by Ann Voskamp
In the Heart of the Sea: The Tragedy of the Whaleship Essex by Nathaniel Philbrick
One Thousand Gifts: Again, I didn't read any this month.
In the Heart of the Sea: The Tragedy of the Whaleship Essex: This is very interesting and sad. It is amazing how many miraculous stories there are out there that are actually true.
Well, I listened to a lot by The Flashbulb. It's just electronic music that is really great to write to.
And I've been listening to Hamilton almost every day. I am so very addicted. I love the story it portrays.
I SAW GLADIATOR!!! AND I LOVED IT JUST LIKE I EXPECTED I WOULD. I flail about it here. Gah!!!
I watched Star Trek Beyond the day it came out! It was so cool! I hadn't even been expecting to see it. It was my first Star Trek movie that I've seen. I had watched a few episodes of the original tv show, but that was it for what I had see of Star Trek. But now that I saw the movie, I started really watching the show and I love it now.
There was such epicness (Is that even a word?) like this.
I finished the tv show Merlin! And now I understand why everyone's upset at the ending. AGH!!! 😦 It was terrible.
Then I saw Jason Bourne the day it came out too! The whole time I was in the theater watching it, I couldn't stop moving. I kept uncrossing my legs or crossing them or tapping my foot or something. It was so intense. It was really good.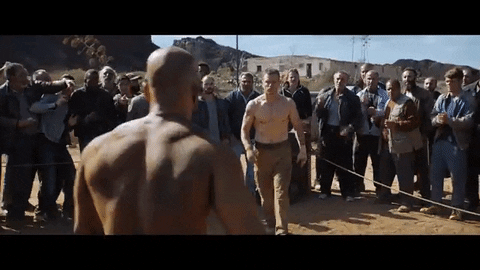 Because everyone needs this gif.
So yeah, I got to see quite a few good movies this month.
How was your month? Did you do Camp NaNoWriMo? Did you see any of the new movies that came out? Tell me all the things!
-G. Paige