You may be wondering why I have a photo with cupcakes on it. Well, I just wanted to give you the craving for cupcakes like the evil person I am. *evil laughter* No, that's wasn't why (though I kind of wish that it was). It was because this month I had my birthday!
*cheers*
Well, that was awkward. Moving on.
I turned SEVENTEEN years old. SEVENTEEN. Wow. I feel so old. I'm almost out of the teenage years.
*gasps*
HAHAHAHAHA… Um, I wrote maybe a thousand words. It is very pitiful. But with a few hundred of those words…
I FINISHED MY FIRST BOOK!!!
I JUST FINISHED MY FIRST BOOK! I began it Nov. 6, 2015 and now I have finished it Sept. 25, 2016. It's 90,815 words. #GPsbook #amwriting

— Gabriela Paige (@GabrielaPaige99) September 25, 2016
I can't believe, that I actually finished a writing project!!! I had started to feel like I'd never finish it.
I "think" that I got a good amount of books read this month.
1.) Mornings on Horseback by David McCullough
This was surprisingly good. Theodore Roosevelt has an amazing/heartbreaking story.
2.) The Wishsong of Shannara (The Shannara Trilogy: Book 3) by Terry Brooks
Really good. And sad. Oh, Allanon! He is my absolute favorite.
3.) The Raven King (The Raven Cycle: Book 4) by Maggie Stiefvater
I expected some of the content, but was still disappointed. The ending was missing something. It wasn't the ending that I wanted. It felt a bit wrong, but other parts were so so so good.
4.) Androcles and the Lion by Aesop
Just a short fable I had to read for school.
5.) House of M by Brian Michael Bendis and Olivier Coipel
THIS IS ONE OF THE MOST AMAZING MARVEL COMICS EVER!!! It had the X-Men and The Avengers. They had to address questions about what to do with a superhero that had lost control of her abilities and killed some of The Avengers.
6.) Cable and Deadpool, Volume 2: The Burnt Offering by Fabian Nicieza
Pretty good, I didn't have the first volume so I was a bit confused at first, but it didn't take long to figure things out.
7.) Cable and Deadpool, Volume 3: The Human Race by Fabian Nicieza
I really think that Cable's story is so so so neat in this series.
8.) Cable and Deadpool, Volume 4: Bosom Buddies by Fabian Nicieza
Very, very strange and weird. But pretty fun!
9.) UnWholly (Unwind Dystology: Book 2) by Neal Shusterman
GAH! WHAT AN ENDING? WHY DID IT LEAVE ME HANGING? At least I had the next to start right away. THIS SERIES IS THE BEST. READ IT NOW. That was not a suggestion, but a order.
10.) The Autobiography of Calvin Coolidge by Calvin Coolidge
Very insightful into what being a president it like, but a bit boring.
11.) Antigone by Sophocles
This is classic Greek tragedy. So almost everyone dies. 😉
12.) UnSouled (Unwind Dystology: Book 3) by Neal Shusterman
SADJLFKSKSLFJLKSDFELFDKLFSKJFLASGLHDLFK!!!!! WHERE IS THE NEXT ONE???!!!!! I NEED IT NOW. These characters have my heart and soul.
13.) The Blood of Olympus (The Heroes of Olympus: Book 5) by Rick Riordan
Pretty good ending, but I wanted Percy's point of view. And I could have done with some more Percy in it.
I also read the Bible books 2 John and 3 John.
I am currently reading:
One Thousand Gifts by Ann Voskamp
The Iliad by Homer
Harry Potter and the Cursed Child (Harry Potter: Book 8) by J.K. Rowling
One Thousand Gifts: Ummm… No, I haven't read any this month. Surprised?
The Iliad: I didn't get this one either. I need to though.
Harry Potter and the Cursed Child: It is so great to be back in the world of Harry Potter. I'm loving it!
Um… I've been listening to a lot of stuff recently. Truslow is totally one of my new favorites. It is such fun music.
HAMILTON. MY HEART (Do you hear it breaking?). I must listen to it about everyday. It is so amazing.
TWENTY ØNE PILØTS CAME OUT WITH A NEW SONG!!! *screams/flails/squeals* It is a cover. But it is beautiful.
Gah! It is so sweet and sad.
I love doing this link-up and I'm very happy to participate!
This was a great book, Allanon was amazing in this book. AAAHHHHH… This has a feel like The Lord of the Rings or something.
I really enjoyed writing this post. Fear. It's something we all deal with. In many cases it will never go away. But that isn't what matters; what matters is how you react to it.
I was prepared for some horrible content. But a good bit of it was still amazing. I just love how the author writes! And the characters are so fantastic!
This was my first guest post on this blog. Madelyn and Joshua discussed books that impacted them. I loved what they came up with. Many books I had heard before, some I hadn't. They all sounded fantastic though.
If you haven't read any of this series, GO FIND THE FIRST BOOK NOW. You won't be disappointed. They're so good. So deep. So relatable (Our world could easily turn into this one!). And just pointblank awesome.
Feel insecure? Not very confident? Here the reasons why we need to be confident and how to go about it.
Wendy Greene did a post on Jason Bourne and it was AMAZING (and absolutely hilarious).
Brianna da Silva changed the name of her novel Emergence and I LOVE IT!
Jeniqua talks of her end of the year goals and ask for beta readers! It is so exciting! You're doing great Jeniqua!!!
Sophia talks about living during the blackout in Puerto Rico. It is funny and totally understandable seeing I was living about the same way for those few days.
I started was The Good, the Bad and the Ugly. It is three hours long so I haven't finished it. #shamed I usually can watch that in one night. But…I was tired.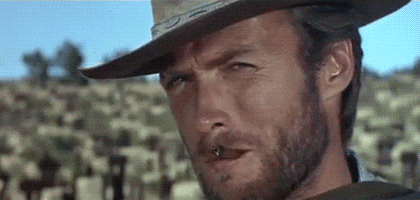 I just love these old spaghetti westerns. AND DOES CLINT EASTWOOD NOT LOOK LIKE HUGH JACKMAN???!!!!!
Oh, and I'm going to do NaNoWriMo. I AM NOT PREPARED.
How was your September??? Are you going to do NaNoWriMo???!!!!! Are you prepared???
-G. Paige